LED Corn Bulb - 100 Watt - DLC, UL Listed - Mogul / E39 Base Corn Cob LED - Rebate Eligible
100 Watt E39 Base Corn Cob LED Bulb - 400 Watt Replacement ‒ Mogul Base ‒ 5700 Kelvin ‒ 360º Beam Angle ‒ 11852 Lumens ‒ 100 ~ 277 Volt ‒ Super Bright Light for Outdoor ‒ 5 Years Warranty
Among the extensive range of all outdoor LED products from BUILDMyplace, an LED Corn Bulb is one of the brightest and the most energy-efficient bulbs that throws light at a beam angle of 360 degrees. Suitable to both commercial and industrial applications, an LED corn bulb is high on waterproof rating -- a must criteria for performance as an outdoor LED luminaire. Our outdoor LED corn bulb having many LEDs arranged like corn kernels on corn cob is available in 100W to provide for high energy-efficiency and high lumen output of 11,852 lumens. The luminare has a CRI of 80+ to provide for better viewing of objects in closer reality to natural light. With a good thermal management, an extended lifespan and easy installation option, the luminaire is completely non-toxic and free from harmful radiation. This corn bulb fixture is an ETL/Energy Star & FCC listed product.

360 degree Beam Angle: Our LED corn bulb uses the latest LED Cob chips from Epistar to project light in a 360-degree fashion. With the light beam spread over a larger area, the corn bulb attains faster cooling and longer lifespan.
100W LED Corn Bulb To Provide For Low Energy Consumption: LED corn bulb from BUILDMyplace available in 100W is an excellent energy-saving alternative to any HID or metal-halide bulbs. A 400W metal-halide bulb can be replaced by a 100W LED corn bulb and you save 300 watts of energy.
A High Lumen Output With a High CRI: Having a CRI 0f >80, this corn bulb LED can provide 11,852 lumens thus allowing the commercial users to showcase their merchandise from all directions in order for the viewers to get more clarity. This product is also ideal for use in warehouse and garage.
Easy To Install: A 100W LED corn bulb is not that cumbersome to install. In most cases, you will just need to bypass the ballast when retrofitting the existing fixture.
E39 or Mogul Base/JustScrew-In: This 100W LED corn bulb fixture comes with an E39 base (also known as Goliath or Mogul Edison Screw) to make for a convenient retrofit to existing fixtures with E39 sockets.
Excellent Heat Dissipation & Long Lifespan: A high grade, rugged aluminum is made use of in this fixture to allow for maximum heat dissipation. The fixture also lasts for at least 6 years, even if allowed to operate for 24 hours, thus there is reduced maintenance, operation and replacement cost.
Rebate-Eligibility & 5 Years Manufacturer's Warranty: This product being DLC approved allows you to have a rebate from the power companies once it's installed. This product comes with a 5 years warranty to enable your use of the product a safe and satisfactory experience.
Easy Installation
The installation of LED corn bulb comes super easy and all you have to do is after turning OFF the power, take out the existing lighting fixture (CFL, MH light or HPS etc.) and screw in LED corn bulb. Then, turn the power ON. If it's a fluorescent lamp, you just need to bypass the ballast.
360° Lighting
The LED corn bulb has a beam angle of 360 degrees and hence it provides illumination around its full circumference. For any outdoor lighting of signages, billboards and indoor lighting of products inside a warehouse or barn, 360-degree lighting is extremely effective as the viewers can get a glimpse from all corners.
Big Heat Sink
The LED corn bulb has an internal heat sink made of aluminium that perfectly fits the bulb requirement of heat dissipation. The heat sink is big and yet very light-weight to ensure good thermal conductivity.
CRI >80
The LED corn bulb has a more than standard color rendering and that means lighting is appropriate enough for objects and spaces to look real as what they would look in natural light.
Rugged Construction
The external housing of LED corn bulb is constructed out of a rugged die-cast aluminium to withstand external tampering, rust, corrosion etc.

Thermal Heat Dissipation
The LED corn bulb unlike the conventional bulbs or other lighting fixtures does not get heated up too soon and so needs no cooling down to operate. Whatever little heat it generates gets dissipated by the internal heat sink made of aluminium.
Ultra Wide Beam Angle
The beam angle of our LED corn bulb is 360 degree and that means lighting emitted around the whole area/circumference of the corn bulb. This helps viewers to see the merchandise from all angles.
Low Maintenance Cost
With 50,000 hours of lifespan, the LED corn bulb does not need any maintenance or needs very low maintenance until the end of its lifespan and this is in extreme contrast to metal-halide or HID lamp fixture when you need to replace the fixture more than twice during the service life of the bulb fixture.

LED Cob Chips
We use LED Cob chips from Epistar for maximum operation efficiency of the LED corn bulb. Also, because of such chips, the light beam is spread over a larger area with corn bulb attaining faster cooling and longer lifespan.
E39 base
Our corn bulb 100W comes with E39 Base. The corn bulb with E39 base is quite easy to install, you just need to screw in. An E39 base also known as the Goliath or Mogul Edison Screw is usually found in industrial lighting fixtures so you will find our LED corn bulb a convenient retrofit for all traditional lighting fixtures that have an E39 socket.
Energy Saving
The LED corn bulb brings about 75% of energy-savings and hence there is a reduced utility bill for you every month to 75% extent.
Rebate Eligible
The LED corn bulb is DLC approved and that means you can be perfectly eligible for rebates.
Product Specifications
| | |
| --- | --- |
| Base Type: | E39 |
| Case Qantity: | 6 |
| Color Temperature (Kelvin): | 5700 Kelvin |
| Diameter: | 4.92 In |
| DLC Listed: | Yes |
| Fixture: | No |
| Housing: | Aluminium + Plastic |
| LED Type: | SMD 2835 |
| Life Hours: | 50,000 Hours |
| Lumens: | 11852 Lumens |
| MPN (Part No.): | CB010 |
| Power Factor: | >0.9 |
| Voltage: | 100-277 Volt |
| Wattage: | 100 Watt |
| | |
| --- | --- |
| Beam Angle: | 360 Degree Beam Angle |
| Certifications: | UL, DLC |
| CRI: | >80 CRI |
| Dimmable: | No |
| DLC Model no.: | WEN-CLW-100WB1 5700K |
| Frequency: | 50/60Hz |
| IP Rating: | IP64 Rated |
| Length: | 11.41 inch |
| Light Distribution: | 360 |
| Metal Halide Equal: | 400 Watt Replacement |
| Operating Temprature: | -4 F TO +113 F |
| Safety Rating: | UL |
| Warranty: | 5 Years |
| Weight: | 2.6 Lbs |
Product Review
Customer Reviews
Write a Review
Ask a Question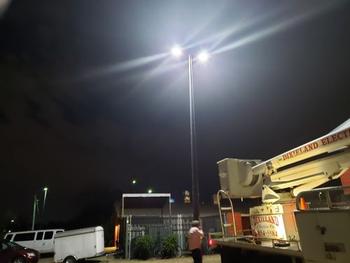 02/08/2020
Decided to retrofit two cobra heads at shelter we help. They are the brightest lights out there!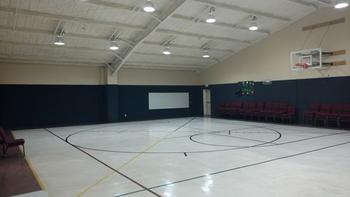 08/04/2019
Purchased these for our church gymnatorium. They put out a lot more and brighter white light. Will last way longer than the high power CFL's.
Does it matter if these bulbs are mounted base up, down or horizontally?

no it doesnt

Does this bulb work in a horizontal type fixture, such as a wall pack?

no. It needs to be screwed in.

dimensions

11.41 inch length (Including base), 4.92 inch diameter.

why i need to buy addson

That's not necessary, it's just suggestion.

what is the physical dimensions of the lamp. LXWXH?

This light is 12 x 6 x 6 and weighs 3lb.