The Detailed Guide on Farmhouse Sinks
by Team BuildMyplace on May 27, 2022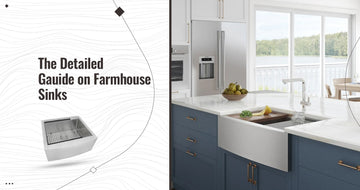 Are you thinking of renovating your kitchen? A farmhouse sink will be an apt pick for the kitchens. It doesn't matter whether your kitchen is narrow or expansive, the farmhouse style sink can efficiently enhance the looks. Plus, its space is sufficient to store bigger pots and more utensils. Thus, the farmhouse sinks will provide apt space in congested kitchens and look perfect in bigger kitchens as well.
Although your choice for finding kitchen sinks can be influenced by how these sinks look, for instance, people prefer a detailed design for their interior as it looks prominent. This is why they prefer apron sinks over farmhouse sinks.
Comparison between farmhouse sinks and apron front sinks
Apart from the fact that both apron front sinks and farmhouse sinks are deep kitchen sinks, they both are pretty different from each other. Starting with farmhouse sinks. A farmhouse sink is an apt design kitchen sink that has a deep base and aligns with the kitchen counter. On the other hand, apron style kitchen sinks too have a deep base, but their looks are quite different than farmhouse sinks. The reason why an apron sink is called an apron front sink is that its front is exposed. This highlighted design offers a complimenting look to your kitchen and goes best with a cabinet assorted style kitchen.
Why should one opt for a farmhouse style sink?
The best farmhouse sink comes in two major materials, i.e., fireclay and stainless steel kitchen sink. Both of these materials are durable and have efficient features. However, opting for one totally depends on you and the look you want to create for your kitchen. Moving on, there are several reasons why one should opt for a farm sink like -
Appropriate space

Complementing looks

Avoids wet floor due to water splashes

Gives an elevated look to the kitchen counter
What materials do Buildmyplace offer?
Stainless steel kitchen sink
The stainless steel kitchen sink is a pretty durable alternative for your kitchen as the stainless steel material is heavy and rigid. The farmhouse sinks made with a stainless steel look versatile, and your heavy cooking pots and vessels cannot temper with its body. A special coating makes sure that the sink does not get greasy and is easy to clean. Also, these farmhouse sinks come with sound deadening pads. These pads evict the irritating metal noises that a stainless steel sink would normally make when a utensil is thrown inside.
Fireclay farmhouse sink
The fireclay farmhouse sink is a better alternative for your kitchen if you are fed up with the regular old stainless steel sinks. The fireclay sinks offer a creative look to your kitchen and go best with the kitchen cabinets. Moreover, these sinks do not pale or fade through wear and tear. Also, the material is not affected by the water temperature. Whether the water is hot or extremely cold, the fireclay material will not tamper.
Features of fireclay farmhouse sink
Looks appealing
The looks of the fireclay farmhouse sink are somewhere similar to porcelain sinks. The high-end finish and tough looks are as effective as a stone finish sink would have. These realistic looks offer a more appealing look to your kitchen as this farmhouse sink blend so well with the kitchen fixtures like faucets, cabinets, and lighting.
Easy to maintain
A fireclay farmhouse sink is easy to maintain. Cleaning these sinks is not heavy-loaded work. In fact, compared to porcelain and ceramic sinks, the cleaning process does not take too much time. Normal rubbing and wiping with a wet cloth will turn your sink into good as new.
Inspired by vintage style kitchens
The vintage style inspires the design and looks of the fireclay farmhouse sink. These sinks were normally witnessed more in the older homes. The reason why these sinks are considered in modern households is that they are durable to use and offer a complementing look to the kitchen. Even if your kitchen has minimal attachments, the sink will complete the look on its own.
Contains deeper space
The farm sinks have a comparatively deeper base than typical sinks. This deep base allows you to place more dishes at one time. Moreover, if you were adjusting in terms of fitting big vessels in these sinks, the farmhouse-style sink is a better alternative in that scenario. It offers you more space so that you don't end up with a messy kitchen platform.
Rigid and long-lasting
The fireclay material offers durability to these farmhouse sinks as it is one of the durable materials. They are as tough as porcelain or ceramic material would be. However, their resistance against cracks and chipping is amazing. These sinks will not break with the weight of the heavy cooking pots. Furthermore, the color and finish of the fireclay farmhouse sink will not lose their appearance due to hot or cold water.
What role does size play in farm sinks?
Size plays a vital role in picking farmhouse sinks as you don't want to compromise with the space. Therefore, make sure that you opt for an aptly sized kitchen sink. It should neither be too small nor too big because, in either case, your kitchen will look adjusted and compromised.
Moving on, you should select farm sinks for your kitchen on the basis of their size. If the kitchen is small, then a small-sized sink will do, and if the kitchen is bigger, the case goes vice versa.
Ideal sized farmhouse sinks for small kitchen
20-inch, 24-inch, and are the ideal sizes of farmhouse sink for small kitchen sinks. If you are tired of a messy kitchen and don't have enough space to place your dirty dishes, then a farmhouse is indeed an excellent choice. However, the thought must have occurred to you that these types of sinks cover more kitchen space as the size is not compact. Well, in that case, take relief because you can use a compact-sized farmhouse sink for your small kitchen.
Ideal sized farmhouse sinks for big kitchen
36-inch and above are the ideal sized for big kitchens. Although, with bigger kitchens worrying about the space is not an issue. But, it doesn't matter how much space you have got, if your fixtures don't look apt with the space, then it will look compromised. Furthermore, in more expansive kitchens, a 36 inch kitchen sink will look complimenting. If you opt for a small-sized farmhouse sink in bigger kitchens, then it will not look as appealing as it should look.
Related Articles