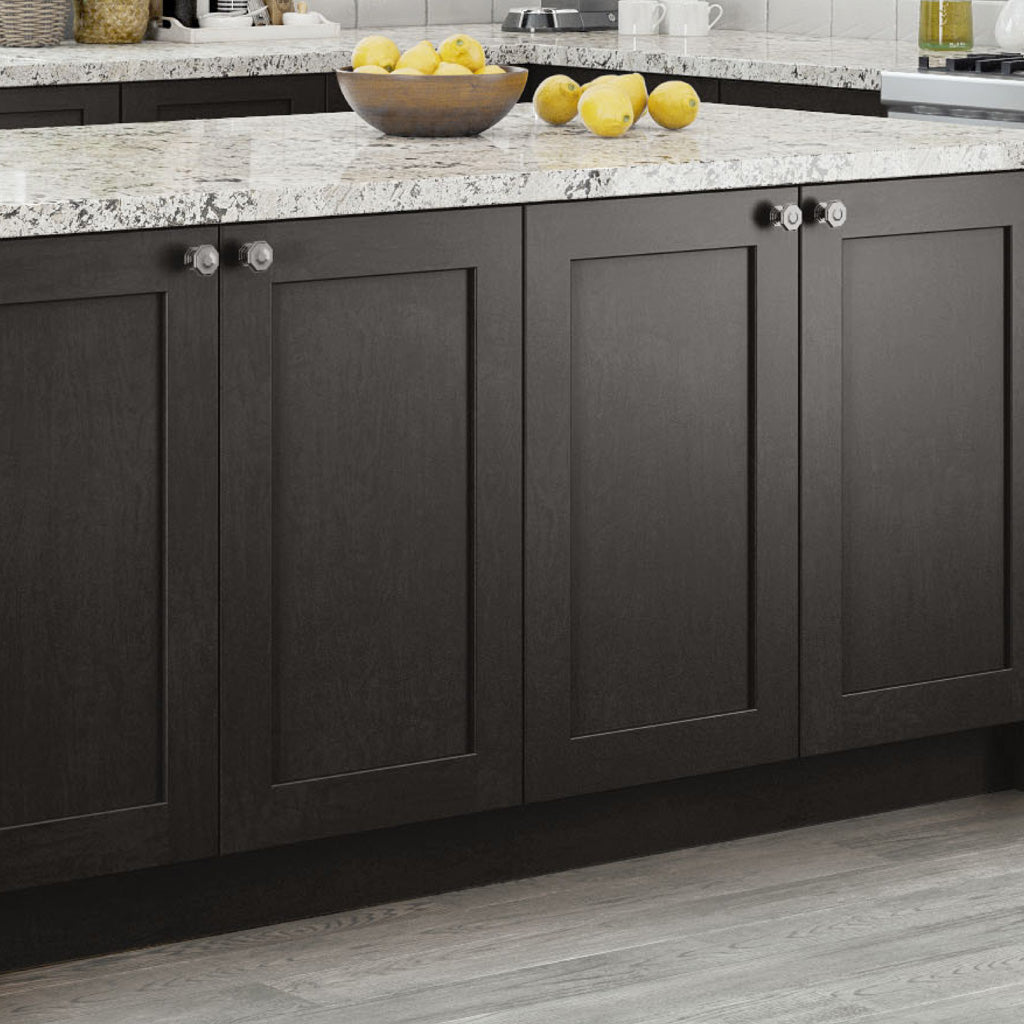 Kitchen Cabinet - Charcoal Shaker Cabinet Sample Door - Elegant Smoky Grey
Sale price
$19.99
Regular price
$39.99
Estimated Delivery:Dec 18 - Dec 22,the delivery time for cabinets may vary.

Free Shipping on select orders & Returns on all orders.
Kitchen Cabinet - Charcoal Shaker Cabinet Sample Door - Elegant Smoky Grey
Sale price
$19.99
Regular price
$39.99
Add an extra oomph to your kitchen and vanity cabinets with the elegant smoky grey cabinets. Mainly, the first impression is the last, and since cabinets are the main item that the guest will look at first when walked in your living area, it has to be elegant in design. The elegant smoky grey provides endless design possibilities and makes the area spacious for homeowners. The smoky color grey mixes around with the furniture style for creative home decor and stylish interiors and delivers a cohesive look. The end goal of the home decor is to provide a class to the interiors.
Cabinet Type
Framed Cabinets
Panel
Shaker/Recessed Panel
Hardware
high quality stainless steel full extension undermount glide. With soft-close safety feature.
FEATURES of Elegant Smoky Grey:
Well known for American Style Framed Cabinets.
Popular feature cabinets used in Contemporary & Traditional Interior Design.
Offers a wide range of cabinet designs that can be used in Kitchen, Vanity and Closet space.
Heavy duty steel concealed adjustable hinge, with soft-close mechanism.
A full overlay 5 piece solid wood 3" rail, with a reversed raised solid MDF veneer center panel. Mortise and Tenon construction.
?" Solid wood, dovetail construction. With high quality stainless steel full extension undermount glide. With soft-close safety feature.
Toe Kick: 4®" Toe kick with 3? inset on all standard base and vanity cabinets.
Five Year Limited Warranty
Easy Installation
Available in RTA Cabinets & Assembled Cabinets.
We provide a construction manual that shows a detailed installation process with diagrams. Manual has a step by step guide on assembling the cabinet. All cabinet products have each piece labelled and it can be easily assembled by following the instructions manual.
RTA Cabinets : It is very common for homeowners to store the kitchen cabinets for a few days while other parts of the project progress. This is because the RTA Cabinets acquire less space and can be stored easily in any dry interior space.
Assembled Cabinets : These cabinets are already assembled ready to place it in your space.
Shipping Time
This cabinet line has the effective ship time available and leaves the warehouse within 7-10 Business Days!
Back: Full ®" plywood back, installed with our interlock system. Screwed to top and bottom.
Side Panels: ®" Plywood sides. Light maple veneer interior and matching finished exterior.
Frame: ?" thick, 1®" wide, kiln-dried solid hardwood. Frame and sides are installed with our interlocking system, which ensures easy assembly and inseparable strength.
Toe Kick: 4®" Toe kick with 3? inset on all standard base and vanity cabinets.
Hardware Feature
Hinges: Heavy duty steel concealed hinge, six-way adjustable. Can be upgraded to soft-close.
Built Quality
The design is scratch-resistant and can withstand the ongoing traffic inside the house.
5 Year Limited Warranty
Our Cabinets warrants to the purchaser of all Concord, Country and Classic Collection Cabinetry will be free from defects in material and workmanship under normal use for five years from the time of purchase.
During this period of time, Buildmyplace will repair or replace at our option, any cabinet or component that proves to be defective in material and workmanship under proper installation and normal use. This warranty does not apply to any damage that has occurred due to normal wear, accident, misuse, or improper handling of the cabinetry. Cabinetry that is stored or placed in humid environment will not be covered under this warranty. This warranty does not apply to cabinetry that has been altered, modified, improperly installed or serviced by any unauthorized service agency. This warranty is limited to the replacement of defective parts only and does not include service, labor, or transportation charges related to the removal or installation of the defective or replacement parts. This warranty does not apply to any products used in conjunction with the cabinetry, such as countertop, appliances, or plumbing fixtures. Repair or replacement are subject to the current product offerings of styles and construction of CNC Cabinetry Inc. at that time. If a warranty claim is filed after a product becomes unavailable, Buildmyplace will replace that part with a part of the same or similar style based on availability.
Humidity Effects: In order to enjoy your cabinets for years to come, it is important to keep the temperature and humidity levels in your home stable. Very dry or very humid conditions will cause the wood to expand or contract, especially with mitered doors. Low humidity will cause wood to shrink, typically occurring in winter months. High humidity will cause expansion in the wood, this typically occurs in summer months. The optimal conditions for your cabinets occur with the humidity levels that are between 35%-50%. Anything below 20% or above 80% needs to be avoided. Using a humidifier or turning on the air conditioner will help avoid these extreme conditions. It is important to keep temperatures and humidity levels stable in your home. Expansion and Contraction of wood with humidity and temperature changes is the nature of wood and is not a reason for replacement. In most cases, once the environment has been controlled for a prolonged period of time, the effects of the humidity will disappear.
Certification
We regard the customer's health as our top concern, so we carefully select environmentally friendly materials. We control the material from the very beginning, which ensures raw materials meet the standard of KCMA.
Product Specifications
| | |
| --- | --- |
| Assemble Type: | Pre-Assembled |
| Assembled Height (in.): | 14 |
| Box Material: | Plywood |
| Cabinet Construction: | Framed |
| Cabinet Interior Finish: | Natural Wood Interior |
| Cabinet Product Type: | Sample Door |
| Color Name: | Smoky Grey |
| Door Material: | MDF |
| Finished End: | Left and Right |
| Manufacturer Warranty: | 5 Years Limited Warranty |
| Number of Doors: | 1 Door |
| Returnable: | 30 Days |
| Style: | Contemporary |
| | |
| --- | --- |
| Assembled Depth (in.): | 3/4" |
| Assembled Width (in.): | 11 |
| Cabinet Collection: | Concord Collection |
| Cabinet Finish: | Painted |
| Cabinet Material: | Plywood |
| Cabinet Shade: | Dark |
| Color/Finish: | Charcoal Finish |
| Door Style: | Shaker Style |
| KCMA Approved: | Yes |
| MPN (Part No.): | EB02-SD11X14 |
| Overlay Type: | Full Overlay |
| Shipping Lead time: | For shipping lead time please email us at info@buildmyplace.com or call us on 740-697-5223 |